Elee rode at Ox Ridge Hunt Club and Old Salem Farm for many years with top hunter trainer Scott Stewart (14x winner of WHIS Leading Hunter Rider Title and 5x winner of The Professional World Championship Hunter Rider, muli-year winner of The Chronicle of the Horse's Show Hunter Horseman of the Year). Among other elite trainers Elee was also a student of Mark Leone's (rider of 29 Nation's Cup Teams and 10 World Cup Finals, Zone 2 Jumper Chair and winner of the prestegious Lionel Guerrand-Hermes Trophy.)
Elee is exceedingly familiar with the AA show circuit having shown successfully at The Hampton Classic, The Vermont Summer Festival, Old Salem Farm Horse Shows, The Ox Ridge Annual Charity Horse Shows, HITS New York and HITS Culpeper among other venues. In her teens and 20's she traveled to both England and Canada to import young prospects to the US market. Her passion for training young horses evolved into breeding and backing with the determination of starting a young horse's career correctly. It is with that understanding, whether the young horse is being cultivated for the show circuit or as a pleasure mount, that the longevity of the horse is dependant on correct training from the start.
Elee has taken a 10+ year hiatus from show jumping to raise her son and comes to the Santa Ynez Valley to continue to pursue her passion. Her knowledge base of the equine is as solid as it is extensive. She will be managing the facility, the backing and h/j training programs, and will offer private lessons.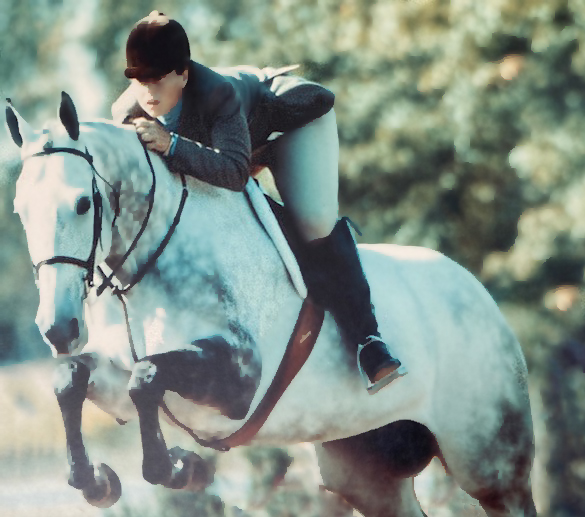 Our goal in training is to help serve the horse and rider to communicate simply and effectively. We strive to achieve speciffic, measurable goals effectively and with consistancy. Ultimately, we want the horse and rider to excel in the discipline of their choice.
ClaudeLee Johnson, known as "Elee", hails from the East Coast and brings with her a solid education from the top show barns in the country. Her 30+ years of experience at world class facilities places her in an elite category in the hunter/jumper world.